Invisalign Braces
People of all ages love straight teeth because they are aesthetically pleasing and healthy. As adults grow older, teeth tend to become crowded as a result of inward growth. Crowded teeth are difficult to clean and can decay much faster than healthy teeth. You can avoid these issues by treating your orthodontic issues with the Invisalign system at Terrana Orthodontics. You will become healthier while improving your smile!
What is Invisalign?
Invisalign is a method that straightens your teeth without using braces. Instead,
Invisalign uses a set of clear and removable aligners that fit your teeth seamlessly.
The aligners shift your teeth gradually into the perfectly harmonious smile you've
always wanted.
What Are the Benefits of Invisalign?
Invisalign will integrate seamlessly into your life:
Clear, virtually invisible aligners
Removable, will not stop you from participating in any activities
Removable eat, brush, and floss
Increased comfortability over braces
Lighter gentler forces
Fewer office visits since there are no wires to adjust or elastics to change
Wear each aligner for approximately two weeks before moving on to the next one
Progress is easy to monitor with appointments with Dr. Anthony Terrana 6-8 weeks
apart.
How Long Will Treatment Take?
Treatment time with Invisalign is similar to that of traditional braces. The actual
length of your treatment will depend on a variety of factors including the amount of
correction that is needed, how you respond to treatment, and your commitment to your
treatment plan. For some patients, Invisalign delivers results in less than a year.
Why See An Orthodontist?
Many dentists started offering Invisalign to their patients, be aware that most do so with their only training being a weekend course from the manufacturer. In contrast, a licensed specialist in Orthodontics like Dr. Terrana has studied an additional 2-3 years beyond dental school and passed the National Specialty Board Examination.
To find out if Invisalign is right for you, schedule a complimentary consultation with Dr. Terrana.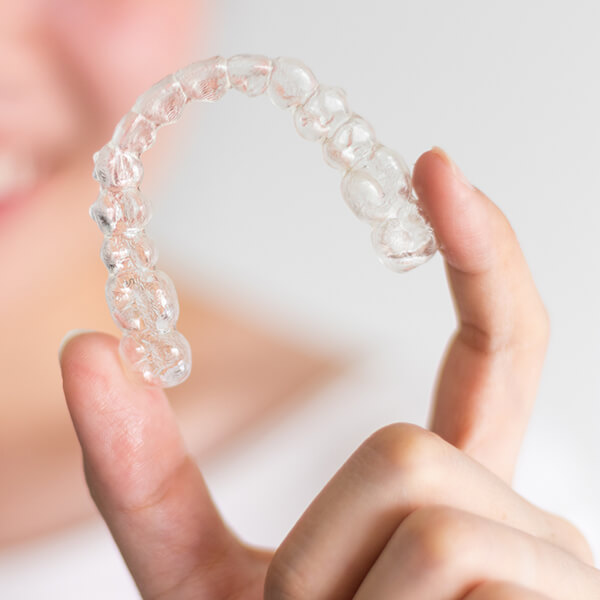 Invisalign® Clear Braces Summit, Madison, Short Hills, Springfield
3 Easy Steps to Get Started