Dr. Anthony Terrana received his Bachelor's degree from Ramapo College, where he graduated Summa Cum Laude. He then graduated from Rutgers School of Dental Medicine where he finished in the top ten of his class. After graduating from Dental School, Dr. Terrana earned his Certificate of Orthodontics and Masters of Science in Orthodontics from Seton Hill Center for Orthodontics in Pennsylvania. While in residency, Dr. Anthony Terrana conducted research in the field and has publications in peer-reviewed orthodontic journals. Dr. Terrana is a Board-Certified Orthodontist (only 1 in 3 orthodontists are Board Certified).
Dr. Anthony Terrana wasn't always a fan of the dental chair, which helps him relate to his patients even further. "As a child I was bullied for having buck teeth with a huge gap," he recalls. "I was so self-conscious to smile, and many times even avoided social gatherings." Compounded with this was the fact that he was also terrified of doctor offices. In the fourth grade his parents took him to the orthodontist and it completely changed his life. "It was such a warm, friendly, non-intimidating environment. It was the first doctor office I was not "afraid of" he adds.
Once treatment was done and his gap was closed, his bite was perfect and he was never afraid to smile again. He proudly recollects, "It gave me a sense of confidence I never had. I knew at that point it was always a passion of mine." That passion resurfaced in dental school when he attended a mission trip to an orphanage in Nicaragua to volunteer free dental service to underprivileged children. The reaction of these children after fixing their teeth provided such tremendous gratification, which further solidified his decision to become an orthodontist and make a powerful impact. Dr. Terrana is a Board-Certified Orthodontist (only 1 in 3 orthodontists are Board Certified).
The most rewarding aspect of Dr. Terrana's job is the day he is able to remove the braces completely. "Just being there to witness someone's reaction after removing them and seeing their new smile for the first time brings tremendous joy and gratification to my life," he says. "Orthodontic treatment is life changing for so many people. I've seen the shyest of children walk through my door and leave after treatment with so much happiness and confidence. It's truly amazing to be able to go to work every day and change people's lives!"
In order to provide superior service and comprehensive results, Dr. Terrana is committed to staying at the forefront of orthodontic science by attending numerous continuing education courses. He stays current with the latest orthodontic research and techniques to straighten teeth as quickly and effectively as possible. His continuing education includes multiple online courses and weekend seminars. He is always on the lookout for new ways to improve the comfort and efficiency of his patients' orthodontic experience.
In his free time, Dr. Terrana enjoys exercising, reading, engaging in sports, traveling, trying new restaurants and spending time with his wife, Gina. Dr. Terrana is an active member of the American Association of Orthodontists and a Diplomate of the American Board of Orthodontics and is Invisalign certified. Dr. Anthony Terrana is an orthodontist in New Providence, Berkeley Heights, Summit, Chatham, Long Hill, Gillette, and Mountainside.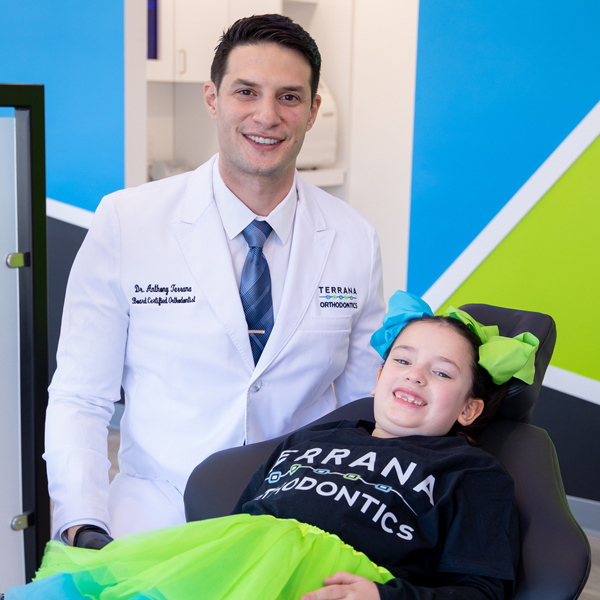 Top Orthodontist Summit, Madison, Short Hills, Springfield