3D Printed Orthodontic Appliances
Technology has transformed orthodontics in several ways. It keeps providing orthodontists with better methods of treatment, giving them lots of advantages over orthodontists in the past. One of the most notable advantages that modern orthodontists have is the use of 3D printers. By leveraging this exciting technology, orthodontists are greatly improving treatment processes for patients. A perfect example is the introduction of 3D printed expanders.
What are 3D Printed Expanders?
3D printing has been around for several years now. However, it still remains somewhat of an enigma to lots of people. The process of 3D printing starts with creating a digital model of the item to be made. This data is then fed into a 3D printer which interprets and layers on specific materials until the finished product is available. This is how 3D printed expanders are made by orthodontists. These appliances are made using metal. Before the expander is created, the orthodontist performs a scan to obtain the stereo­lithographic data required to create a virtual model, which is then used to print the expander.
Advantages of 3D Printed Expanders
Here are some of the advantages of 3D printed expanders
Less Time Required
Direct mental printing saves time for both doctors and patients. There's no need for two separate appointments since the technique doesn't involve complicated fabrication processes before delivery. It also vastly reduces chair time, which can be very convenient if you have a busy schedule and not much time to spare. No Separator Office Visit! 3D printed expanders eliminate the need for uncomfortable separator visits prior to expander insertion! Since this appliance does not go in between the teeth, we no longer have to place uncomfortable separators between teeth to make space prior to the expander insertion.
Complete Customization
Before a 3D printed expander is created, an oral scan is taken. These scans are highly accurate, and the data obtained is used to create a custom expander. As you might imagine, this eliminates potential issues that can occur due to the accuracy of fit. It also makes the processes of placement and removal much easier.
Less Patient Discomfort
Traditional expanders use bands that are squeezed between teeth so they can fit. They are also a lot bulkier. As a result, they tend to get in the way of your tongue. On the other hand, 3D printed expanders sit comfortably on your teeth. This means there's no need to squeeze them in. They are also quite smaller, which helps to reduce speech changes.
Easier to Maintain!
The smaller 3D printed expanders don't collect a lot of food when you eat. They have a rather sleek design, which makes them easy to clean with your toothbrush. Some orthodontists use glue that releases fluoride to reduce the chances of cavities.
No Gaggy, Gooey Impressions! 
Orthodontists use intraoral cameras to scan the interior of your mouth before creating 3D printed expanders. As such, you won't have to endure goopy and gross materials used to create impressions. The process is a lot cleaner and way more comfortable. It also reduces the chances of contamination.
The digital design of 3D printed expanders helps orthodontists achieve complete customization of the treatment process. As you might imagine, this approach also results in better treatment outcomes. Digital scans improve the accuracy of diagnosis and help to create more efficient treatment plans tailored to individual patients' needs.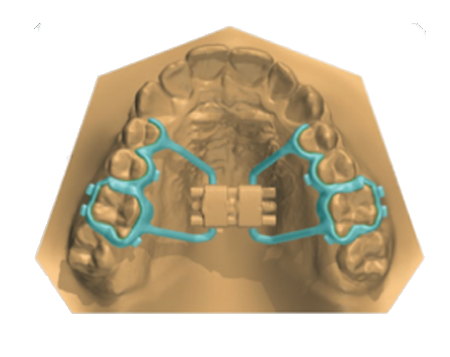 3 Easy Steps to Get Started