Dental Braces for Teens
Addressing orthodontic concerns earlier rather than later can be significantly beneficial for patients. Repositioning of the teeth and jaws is easier to do while they are still in the process of growing. Dental braces for teens are indicated if they present with any of the following issues:
Overcrowding and crooked teeth.
An overbite or underbite.
A crossbite (both top and bottom misalignment).
Gaps between the teeth.
An open bite (when the top and bottom teeth do not touch when the mouth is closed).
Benefits of Dental Braces for Teens
Correcting issues such as protrusions, overbites, and gaps can have a notable effect on teenagers' self-esteem and overall health. Timely dental braces for teens can improve chewing, and speech impediments, as well as breathing and sleeping. Young teenagers' jaws are still in the process of growing, and dental braces for teens can help to correctly guide the jaws through this process.
Treatment Options
Conventional Dental Braces for Teens
Conventional metal braces are the most common form of dental braces for teens. They often generate great results and can correct most alignment issues.
Ceramic Dental Braces for Teens
Ceramic dental braces for teens are very similar to metal braces. The difference is that they are made from a clear ceramic material and are less visible than conventional dental braces for teens. These braces are typically more expensive than their counterpart and require more care to prevent staining. However, the fact that they are less noticeable makes them a popular option.
Invisalign
Invisalign is suitable for teens with mild to severe misalignment or bite problems. Aligners are clear plastic trays that gradually shift the teeth into the correct position, and offer a great alternative to dental braces for teens. The aligners need to be worn for a minimum of 22 hours per day for optimal results. They can be taken out when brushing, flossing, and eating. Aligners are ideal for teenagers who regularly participate in sports since they can be removed, which helps to prevent injuries to the mouth.
What is the best age?
It is generally recommended that by age seven, children should visit an orthodontist for an examination of their teeth. By this age, they have enough adult teeth for an orthodontist to conduct an accurate assessment of their teeth and jaws. An orthodontist will be able to recognize any existing or potential issues that need to be corrected. They can then decide on an appropriate treatment plan. Treatment may need to be started immediately or can be delayed for a few years, depending on the severity of the issues. Oftentimes orthodontists do not opt for immediate treatment but instead choose to monitor the patient over a few years. Early teenage years are considered the best time to get dental braces for teens. The reason for this is that teenagers between 12 and 15 years old undergo a growth spurt of the jaws and are transitioning into adult dentition.
What to Consider
When considering the option of dental braces for teens and choosing the correct type for teenagers, parents must keep certain factors in mind. Orthodontists will consult with teenage patients and their parents to decide which treatment option is best. Factors such as the severity of misalignment and lifestyle factors, such as whether the child participates in sports, will play a role. Each orthodontic treatment using dental braces for teens is individually customized to meet their specific needs. Sometimes a variety of treatment options is the most effective. It is also important to consider that some types of dental braces for teens require more self-discipline and treatment care than others.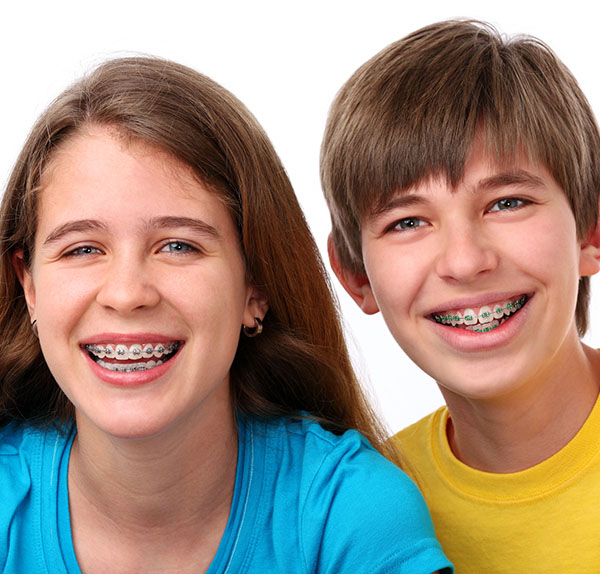 Dental Braces Teens Summit, Madison, Short Hills, Springfield
3 Easy Steps to Get Started